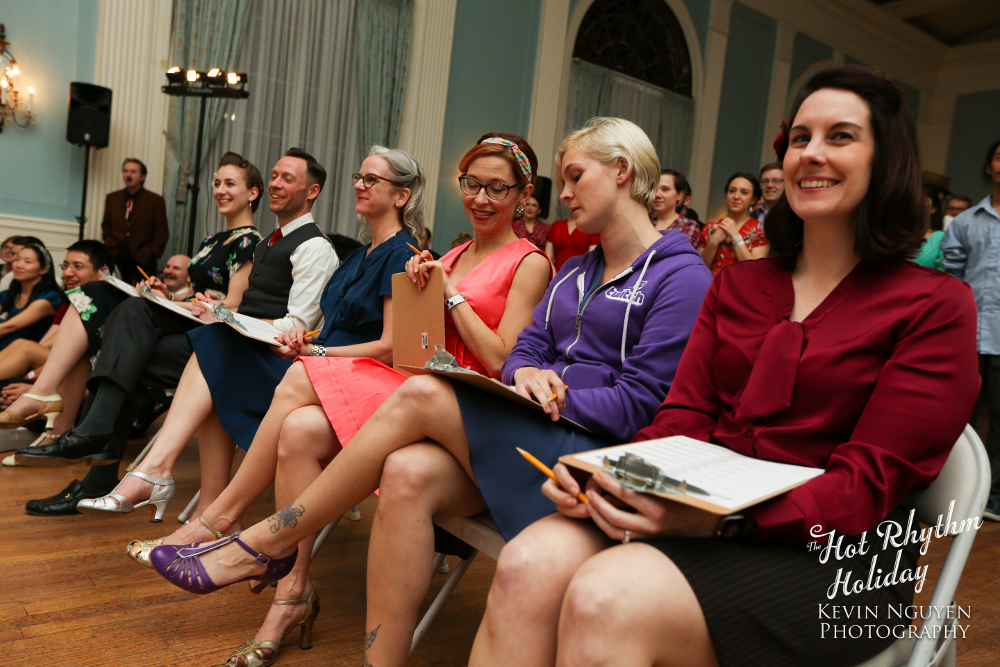 This year features competitions in Balboa and Collegiate Shag.
Balboa Competition
Both Pure Balboa and Bal-Swing are permitted during the Balboa competitions.
Shag Competition
All Collegiate Shag rhythms (i.e., single, double, triple, and long-double) are allowed in the strictly competition, but the Shag Jack Carey Competitions will be limited to only double rhythm Shag (i.e., the six-count shag basic that includes two 'slows' and two 'quicks'). Feel free to incorporate any two-count, four-count, and eight-count moves, but to keep the contest fun for everyone, please limit your basic to double-rhythm. All four Shag rhythms (single, double, triple, and long-double) are permitted in the strictly.
Triple Threat Competition
Triple threat: Someone in a particular field who exhibits three skills that are necessary to excel. Do you have game in Balboa, Lindy Hop, and Collegiate Shag? You could go home with a cash prize for the first place couple. Last year's cash prize was $1000. Signups are limited and can only be done in person the weekend of the event. Instructors and students can compete and is considered an open competiton. Come and show us what you've got!
Jack Carey Competitions
(or "The contest formerly known as Jack and Jill)
In a Jack Carey competition, contestants don't need a partner to participate; each person is matched with someone at random. We have a Jack Carey competition for both Balboa and Shag. In the preliminary round, every competitor is given three songs and dances each song with a different partner. Those who make it through to the final round dance with a single, randomly-selected partner to DJed music.
***We are well into a new century in which Leads and Follows are no longer limited to gender specifications. Thus, the term "Jack and Jill" is outdated, no? We have renamed this particular contest the "Jack Carey" competition, after the famous swing dancer that coined the term "Jack and Jill" in the 1950s. Same thing, more appropriate name!
There are two Jack Carey divisions:
Amateur Jack Carey Competitions
The amateur division is intended for dancers who have either never competed before or those who have not yet won a novice competition. Competitors range from beginner to intermediate skill level.
Advanced Jack Carey
The advanced division is targeted at experienced dancers. Competing is not new to you. You are an intermediate or advanced level dancer that has competed and/or placed in a competition.
The Strictly Competitions
In a strictly, you must have a partner ahead of time to enter the competition. Unlike a Jack Carey comp, you do not trade partners throughout the competition. We will have a strictly competition for Balboa and Shag.
Open Strictly
The open division is open to any level of dancer, however this division is targeted at more experienced dancers. In general competing is not new to you and you feel comfortable competing in this division.
Registration
Contestants need to register as individuals, but specify a partner if you are signing up for a strictly. There is no limit to the number of competitions one can enter. There is a no refund policy for competition fees.
Other Requirements
Aerials are not allowed during the Jack and Jill competitions, but dips and floor tricks are permitted.
Competitors' meetings for Jack Carey and Strictly comps are mandatory.
Judging Criteria
Musicality: Dancing with the music is key. One can never be too musical while dancing and doing so will definitely help you stand out in our competitions. Technique: As best they can, the judges will assess the lead and follow technique used by the dancers, even during the strictly. Creativity: Presenting new moves that still keep true to the spirit of the dance is a great way to promote a dance as well as win points with our judges. Authenticity: You don't have to be a dance historian to dance in your style authentically. What we are looking for here is not a flawless recreation. However, it is important for competitors to demonstrate that they understand the unique form of each dance style. Footwork: We encourage clean footwork. Give us some precise, well-executed variations in footwork. That will definitely help you beat out the competition.
Other suggestions
Aerials: Doing aerials is not forbidden in our strictly competition, but it's also not considered a key factor in judging. Aerials aren't going to count against you (unless you do them poorly), and you'll probably entertain the crowd. But also keep in mind that this isn't something that we place a lot of emphasis on.
Borrowed Moves: Some moves are shared by several dances. The swing-out is one example of this and tandem dancing is another. There is a point at which it becomes obvious that one has temporarily left one dance for the sake of incorporating a beloved move from another dance style. If possible, try to avoid this. Incorporating moves from other dances is not a bad thing, but you must be willing to alter them considerably in order to make them fit the technique and aesthetic of your dance.
Choreographed Sequences from movies: Imitating lengthy choreographed sequences (not to be confused with stand-alone moves) taken from vintage clips is not uncommon in shag competitions. If you really want to do well in our contests, steer clear of this trend. Show us something new. That's the way to really impress our judges!